Valentine's Day is just around the corner. For most that means lots of chocolate. But I'm REALLY trying to limit the amount of candy in the house. First because I have almost no self control around it. Second, because Kai inherited my lack of control around candy and I have to hear about it. Every 5 seconds. All I hear, all day long is "can I have some candy?" It makes me crazy.
Most of the candies I've seen consists of Corn Syrups, Artificial Flavoring and Artificial Colors. And they seriously affect Kai. 1 piece of candy and she's buzzing like a chainsaw. We seriously don't need that in the house. :)
Now the Hubs is a big proponent of "It's a Holiday". BUT we just had Christmas, the Super Bowl and Birthday Parties...Not to mention that Easter is looming. It seems like there are too many "Special Occasions" that result in junk in our pantry for days and days. My goal this Valentine's Day is to clean it up.
More on my ideas at the end. First let's do a quick review of my eats yesterday...
Breakfast, for me was oatmeal topped with Libby's Pumpkin Puree, chia seeds, cinnamon, nutmeg and pecans...oh and a dash of chili powder because I accidently grabbed it instead of the cinnamon at first. lol!
Kai had a bowl of pumpkin, with the same toppings plus a gram cracker. And of course, a Jelly Sandwich. The sandwich doesn't come through very well in the photo but basically I used a Double Heart cookie cutter on 1/2 of it then put that piece back into the cut out with the jelly side out. :)
As a mid morning snack I had a grapefruit! Yumm!!
Then on the way home from school Kai and I stopped in Walgreens and bough a small bowl of mixed fruit. Can I just say I'm LOVING that they sell fruit now! Instead of suckers or candy Kai picks out her favorite fruit. :D
Served in little heart cups...perfect for V-Day.

Lunch was straight-up left overs. We finished off the Veggie Casserole from yesterday. :)
And then for dessert we had Pumpkin Ice Cream!!
2 Frozen Bananas, approx 1 C Pumpkin, Cinnamon & Nutmeg
Blend until smooth
Fill your cones and top with pomegranate.
No one can resist "Ice Cream"
Finally for dinner we had....
Spinach Salad with Chopped Apple, Pomegranate & Feta Cheese
Salmon Patties - I basically followed the Chicken of the Sea Salmon Patty Recipe on the can with a few substitutions.
1 can chicken of the sea salmon
1 C Panko Crumbs (instead of seasoned bread crumbs)
1 T Dijon Mustard (instead of mayo)
1 T Lime Juice (instead of lemon)
Garlic Powder (instead of Garlic Salt)
stir everything together. Form 8 Patties. Place in a hot skilled with Coconut Oil. Cook until one side is browned then flip and cook the second side.
Kai and I also wanted some tomato & avocado for our patties...
For a side...Oven Fried Potato Chips.
Sliced using the slicing black of my food processor then coated with a little olive oil & paprika and roasted at 425 until they were browned. Then I added some kosher salt on top. :)
All brought together to form our dinner....
My setting.
Kai's
The Hub's.
And now the left over patties are tucked away in the freezer for a later date. :)
As for my "clean" Valentine's Treat Ideas...
Here's some of the things I'm leaning towards instead of Candy for Kai....
1. A nice container of Strawberries or Raspberries.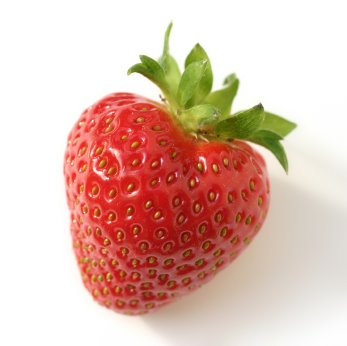 First, Strawberries have a natural heart shape! Second Kai (and most kids for that matter) genuinely like fruit. Give her a big bowl of berries and she's one happy camper!!
2. Heart Hard Boiled Egg.
I'm not sure if every kid likes hard boiled eggs as much as my little sweety but if they do then you'll hit a home run with these!!
This is along the Strawberries/Raspberry route but with a little more craftiness. :)
I'm leaning towards these. Then I'll press them out in a casserole dish and use heart cookie cutters to present them. :)
5. Find something other than food to show our love...
A Plant she can help water & watch grow
New Crayons, coloring book or a Puzzle (she's seriously into puzzles right now)
I'd love to hear if you have any other ideas!!!